INTRODUCTION
Alpha-1 antitrypsin [(AAT); also known as Serine Protease Inhibitor (SERPIN) family A1] is a polymorphic protein expressed in a codominant fashion by 2 alleles on chromosome 14[1]. It has a modulatory role in inflammation showing an acute phase response in its manufacture and release from the liver (the major source of production) and increased diffusion into the affected tissues/organs where it plays a primary role in protecting tissues from the destructive effect of serine proteinases.
The importance of this role is indicated by the genetic deficiency first observed in the 1960s[2]. Of the initial 5 cases identified, 3 had severe early onset basal emphysema and subsequent family studies confirmed the inheritance of the deficiency and the pulmonary association that appeared both spontaneously (with no recognised external risk factors[3]) but was accelerated by cigarette smoking[4]. Although other clinical associations such as panniculitis, systemic vasculitis, and liver cirrhosis are also recognised associations, it is the pulmonary disease that dominates.
Much has been learnt about the pathophysiology of the disease since the early observation of plasma deficiency. Over 150 variants of the protein have been identified, although most are associated with apparently "normal" concentrations and function. Deficiency can vary from partial due to heterozygosity of deficient genes with a normal gene to complete absence of AAT related mostly to point mutations and frameshift truncating mutations, although these are especially rare[5]. The majority of clinically relevant deficient cases are those homozygous for the Z variant which has a point mutation resulting in an amino acid substitution at position 342 (Glu to Lys) in the mature protein. This substitution can be identified through the genomic databases as rs28929474-p.Glu366Lys. As a result, this produces a protein that has a reduced association rate with its target enzymes[6-8]. This mutation also increases the likelihood of the protein to polymerise, particularly in the liver, impeding its secretion (by approximately 80%), resulting in plasma concentrations of ~5 µM[6-8].
The most relevant targets for AAT are serine proteinases and especially those stored in and released by circulating and migrating neutrophils. In the 1970s, the first report on the pulmonary damaging effect of neutrophil elastase was published[9]. Although this enzyme retains its importance as the direct mediator of emphysema and damage to many vital immune functions in the lung, it should be noted that two other enzymes stored in the same granules in the neutrophil (Proteinase 3 and Cathepsin G) can play similar damaging roles.
In the 1980s, the link between AAT deficiency (AATD) and emphysema was well established and the logical way to manage the condition was to enhance the circulating and hence lung concentration of AAT. Purification of plasma AAT from blood donors proved feasible and intravenous administration raised both the plasma[10] and lung[11] concentrations of AAT to safe and protective levels. Based on these studies, the United States Food and Drug Administration (FDA) approved weekly intravenous augmentation therapy for Z homozygous individuals on biochemical efficacy alone.
Because AATD is relatively rare (1 in 1500 to 1 in 5000) related to migration patterns from the Baltic areas[12], it was not felt feasible to carry out classical placebo-controlled studies to demonstrate clinical efficacy on the physiological progression of emphysema. However, observational studies[13,14] suggested a benefit. With the advent of highly sensitive quantitative computed tomographic density measurements of the lung as a direct measure of the emphysema process, the powering of studies to demonstrate the efficacy of augmentation therapy became feasible. Initial observational[13,14] and placebo-controlled studies[15-17] and a subsequent adequately powered placebo-controlled study[18] confirmed the ability of intravenous AAT to slow the progression of emphysema.
However, intravenous augmentation therapy is both expensive and inconvenient for the patient and remains unavailable in many countries. Research has continued into the pathophysiology of chronic lung disease including the processes relevant to AATD that suggest alternative strategies may be equally or potentially more effective in correcting the imbalance that occurs when enzymes such as elastase are released into an environment where deficient AAT fails to adequately control the enzyme activity exceeding its physiological role and leading to excessive tissue damage. The mechanism and potential strategies to enhance protection in AATD are discussed below.
The pathophysiology of emphysema
The proteinase/antiproteinase balance theory
AAT is the most abundant serine proteinase inhibitor in the circulation and plays a major role in the lung by largely entering the tissues via simple transudation and therefore increases in the presence of local inflammation[19]. In healthy individuals, plasma concentration of AAT ranges between 20 to 40 µM resulting in interstitial concentrations of roughly 80% of that in plasma. The other significant lung inhibitor is the secretory leukocyte proteinase inhibitor (SLPI) produced by mucous glands and bronchoepithelial cells and can be secreted basally into the interstitium[20]. Although a reversible inhibitor (unlike AAT, which is irreversible), it is better at protecting elastin from neutrophil elastase than AAT[21] despite being unable to inhibit Proteinase 3[22].
When the physiological balance between these enzymes (as in AATD) is disturbed, excessive tissue breakdown occurs as the proteinases will have a longer duration and radius of activity[23,24]. During neutrophilic inflammation, the neutrophil traffic and elastase load to the lung is increased. In those with normal AAT, the acute phase response increases AAT production and inflammation increases its penetration into the lung leading to modulation of inflammation. In AATD, the AAT concentration is too low at baseline and inflammation is greater than in patients with normal AAT which is associated with a poor acute phase response[25]. This potentially leads to greater and more persistent tissue damage, destruction of elastin, and the development and progression of emphysema.
When AAT-deficient individuals were reported to have increased susceptibility to emphysema development[2], researchers quickly recognised the balance between AAT and a destructive enzyme/s[3] (subsequently identified as a feature of neutrophil serine proteinases[9,26]) was key to maintaining elastin homeostasis and that emphysema reflected a disturbance in this balance where proteinase activity prevails.
The proteinase/antiproteinase imbalance between AAT and its cognate proteinase is reflected by the excessive amount and activity of neutrophil elastase in AAT-deficient individuals[27]. Neutrophil elastase load in the lung tissue is directly associated with the pathological severity of emphysema[28]. Furthermore, the systemic footprint of neutrophil elastase measured as a neutrophil elastase-specific fibrinogen cleavage product (AaVal360) is significantly higher in AAT-deficient individuals and correlates with the severity and progression in the early stages of AATD lung disease[29,30].
In the most prevalent form of AATD, it is the replacement of Glu to Lys at position 342 (hinge loop region) of the Z variant AAT protein that increases the likelihood of spontaneous polymerisation[6]. As a consequence, retention in the liver reduces secretion and hence the plasma and lung concentration, increasing susceptibility to tissue damage by neutrophil serine proteinases. In addition, polymerised AAT aggregates can be found in the lung tissue[31], associated with the accumulation and activation of neutrophils in the localised areas halting their migration into the airways, and hence causing more localised tissue damage. Furthermore, after degranulation, proteinases can become bound to neutrophil cell membranes (especially in AATD[32]) and remain active while being resistant to AAT inhibition, which further complicates the control of local proteinase activity, especially for AATD individuals.
The role of neutrophil elastase in the pathophysiology of emphysema is widely recognised. However, emerging evidence suggests that Proteinase 3 may play a greater role in driving emphysema in AATD. Proteinase 3 is stored at 3-4 times greater concentrations in the azurophilic granule than neutrophil elastase[33]. In addition to replicating pathological changes similar to emphysema in animals[26,34,35], mathematical modelling indicated that Proteinase 3 possessed a greater potential for injury than neutrophil elastase diffusing over a greater radius for longer before reaching an enzyme inhibitor equilibrium, especially in AATD[23]. Neutrophils from AATD subjects also expressed more Proteinase 3 on the cell membrane[32], which is replicated by treating healthy neutrophils with deficient Z as opposed to normal M AAT plasma, suggesting that AAT itself modulates cell membrane localisation.
An additional factor influencing the role of Proteinase 3 is that SLPI (the predominant antiproteinase in airway secretion) is a poor inhibitor of Proteinase 3 and suggests that Proteinase 3 likely has a more important role in tissue destruction, especially in AATD[22-24]. This is supported by the persistent Proteinase 3 activity in lung secretions of AATD patients compared to those with non-deficient chronic obstructive pulmonary disease (COPD) even when elastase activity is undetectable[32,36] and the greater plasma concentrations of the Proteinase 3 activity footprint than that of the neutrophil elastase footprint as measured by the specific fibrinogen cleavage products[37].
Neutrophils and emphysema
Neutrophil serine proteinases, particularly neutrophil elastase and Proteinase 3 are essential to neutrophil migration through the lung interstitium[24,38]. The movement of neutrophils is facilitated by the mobilisation of proteinases to the leading edge of the cell[39]. During this process, the concentration of the released proteinases in the pericellular space overwhelms their inhibitors, causing an area of obligate destruction closely surrounding the neutrophils until the proteinases diffuse away and an equilibrium is reached[24,32]. In AATD, the destructive effect is amplified as cell surface proteinases are less controlled, potentially causing a greater area of damage[40].
Accumulation of neutrophils in the lung is well documented in AATD. This neutrophilic accumulation is in response to locally released chemoattractants. Leukotriene B4 (LTB4) is generated and released by alveolar macrophages in response to excess neutrophil elastase activity[41]. Similarly, CXCL8 can be released from epithelial cells in response to an elastase challenge[42]. Both these potent chemoattractants have been detected at high levels in lung secretions of AATD[43]. Additionally, tissue degradation products generated by elastase from elastin can also add to the chemoattractant signal gradient[44], providing an amplification loop to the lung neutrophilic response, thus enhancing tissue damage.
Understanding the whole pathway involved in tissue damage in AATD (See Figure 1) provides a series of potential therapeutic interventions to restore a physiological balance and protect the lung.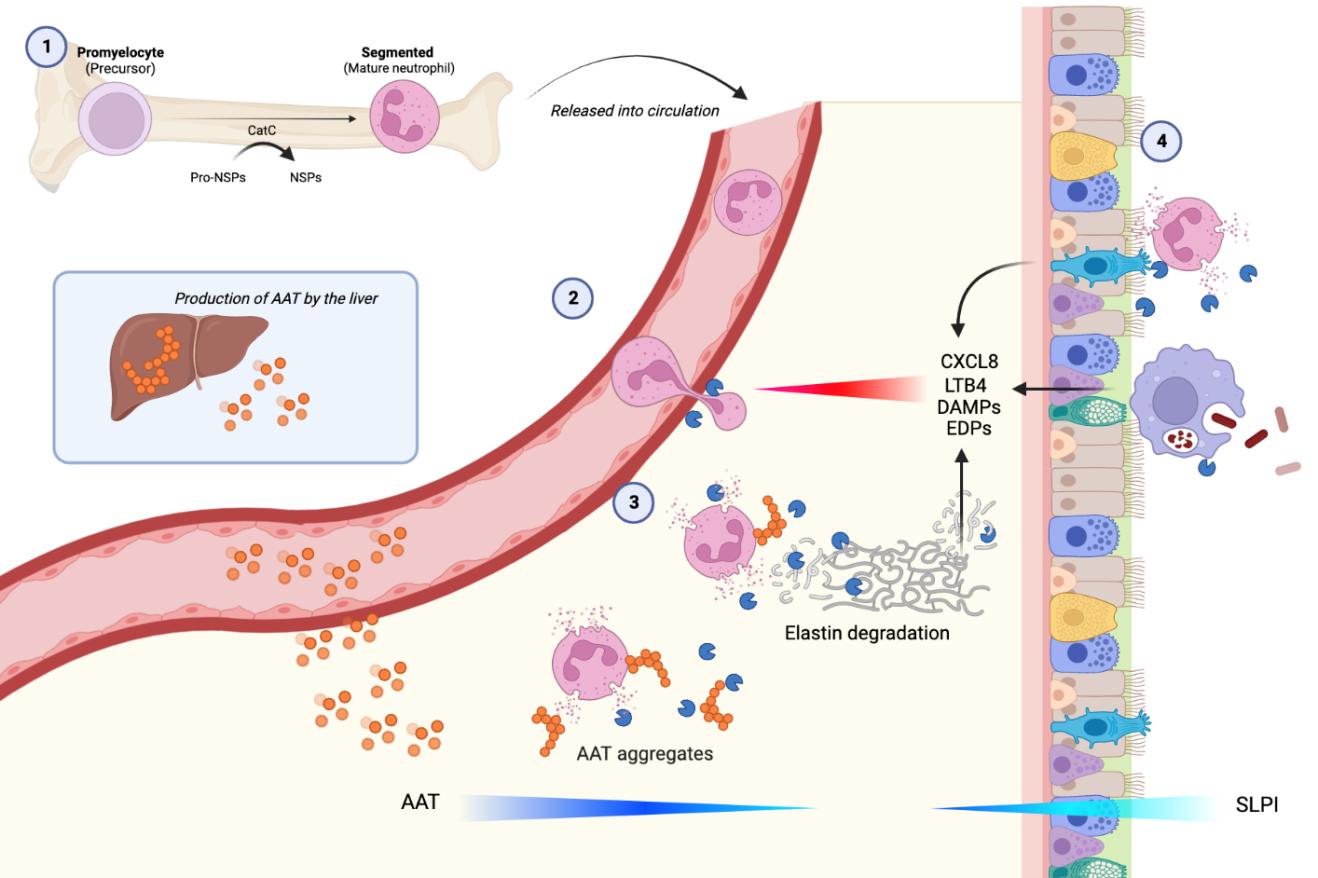 Figure 1. (1) Neutrophil proteinases are transcribed and packaged early in cellular differentiation in the bone marrow. Cell division later in differentiation divides the preformed packages (azurophil granules) amongst daughter cells and the mature cells are released into the circulation. (2) When the circulating cell senses a chemotactic gradient, it adheres to the endothelium via specific adhesion molecules and transmigrates through endothelial junctions. Granules migrate to the leading edge and the cell releases elastase at the point of transmigration, facilitating movement into the tissues, degrading a connective tissue pathway while leaving enzyme in its wake. (3) The presence of AAT polymers in AATD patients can potentially drive further neutrophil recruitment and local activation, which in the presence of deficiency amplifies local tissue damage, generating chemotactic fragments that add to the chemoattractant signal[31]. (4) Once in the airway, further release of elastase generates additional chemoattractants such as matrikines[44] and DAMPs[45], amplifying neutrophil recruitment. CatC: Cathepsin C; NSPs: neutrophil serine proteinases; DAMPs: damage-associated molecular patterns; ECM: extracellular matrix; CXCL8: C-X-C Motif Chemokine Ligand 8; LTB4: leukotriene B4; AAT: Alpha-1 antitrypsin; AATD: Alpha-1 antitrypsin deficiency; SLPI: secretory leukocyte proteinase inhibitor.
With this whole pathway in mind, there are several defined points at which the process can potentially be modulated.
Augmentation of the antiproteinase screen
Since the genetic deficiency is likely central to the disturbance of the physiological balance with neutrophil serine proteinase in the lung, the most logical step is to restore the missing protein to normal/safe levels. Gadek and colleagues[10] demonstrated this was feasible with AAT purified from plasma, given weekly at 60 mg/kg to achieve a putative "protective" nadir level (≥ 11 µM)[24,46,47].
Registry data found that patients receiving AAT augmentation had slower lung function decline, especially in a limited midrange detected by the forced expiratory capacity volume in 1 sec (FEV1) as a surrogate marker of emphysema progression[13,48]. This observation was supported by the slowing of lung density decline in later controlled clinical trials through measuring computed tomographic densitometry, a more direct marker for emphysema[15-17]. However, despite AAT infusion reducing the rate of lung density decline, a more recent randomised control trial did not observe an effect on halting deteriorating lung function stabilising or improving health status or reducing exacerbations[18], although the study was not statistically powered for such outcomes[49].
Assessment of the clinical efficacy of AAT augmentation therapy is complicated by different study designs and standard outcome measurements. The longstanding debate concerning the clinical impact of AAT augmentation therapy was more recently addressed by the European Respiratory Society. A comprehensive meta-analysis was undertaken and concluded a clinical benefit in reducing emphysema progression assessed by computed tomographic densitometry and the slowing of lung function decline[50], although a longer study of augmented and non-augmented patients showed no apparent benefit of augmentation as determined by the decline in FEV1[51]. Nevertheless, although the benefit of augmentation on the loss of lung tissue is now accepted, the progression continues even with this therapy, albeit at a slower rate, suggesting that other factors are at play[52].
Modified AAT forms are also being explored for possible improved stability and better cost-effectiveness. INBRX-101 (also known as rhAAT-Fc) is a modified AAT that is more resistant to oxidative inactivation[53]. Intraperitoneal administration of INBRX-101 in mice was more protective than using pooled plasma AAT in emphysema induced by elastases (pancreatic porcine elastase and neutrophil elastase) or cigarette smoke[54]. Recently, the phase 1 trial of intravenous INBRX-101 every three weeks showed that it restored functional AAT levels in the plasma of AATD patients, comparable to those of healthy individuals (40.4 μM), which was sustained over the course of the study period[55]. However, the full results or any potential biochemical efficacy have yet to be released[55]. INBRX-101 may be more sustainable than traditional AAT augmentation therapy and possibly have a greater effect than conventional plasma-purified AAT in abrogating disease progression.
SUMMARY
Neutrophil serine proteinases are responsible for driving inflammation and tissue destruction in the lung, especially in chronic lung diseases, such as AATD. This process is partly modulated by AAT replacement in AATD.
Replenishing AAT to restore protection against proteinase-driven damage is a logical and straightforward strategy but is costly and requires weekly infusions. Although AAT has broad immunomodulatory functions, it plays a passive role in preventing downstream injury as a side effect of excess neutrophil trafficking in response to chemoattractants. In comparison to the greater than $100,000 per patient per year for delivering augmentation therapy, novel oral drug candidates are likely to be cheaper but, importantly, less invasive and therefore more convenient for the patients.
CONCLUSION
Understanding the steps that lead to neutrophil migration, degranulation and tissue damage offers several potential strategies to modulate the proteinase/antiproteinase balance, although this has to ensure the important secondary host defensive functions are retained.
DECLARATIONS
Acknowledgments
Celine H. Chen would like to thank Dr Aaron Scott for his help with manuscript orientation.
Authors' contributions
Both authors made substantial contributions to the conception and writing of the chapter.
Availability of data and materials
Not applicable.
Financial support and sponsorship
None.
Conflicts of interest
Both authors declared that there are no conflicts of interest.
Ethical approval and consent to participate
Not applicable.
Consent for publication
Not applicable.
Copyright
© The Authors 2022.