Abstract
In recent years, accumulating evidence has shown that pulmonary arterial hypertension (PAH) has a strong underlying inflammatory component. Vascular remodeling, a common pathology observed in all forms of pulmonary hypertension (PH), is accompanied by a pronounced accumulation of leukocytes around and within the vessels. Proteolytic products of immune cells, particularly neutrophil and mast cell serine proteases, have been shown to play a central pathogenic role in vascular remodeling and PAH development. Serine proteases are involved in many aspects of the inflammatory response, such as extracellular matrix degradation, regulation of bioavailability of cytokines, chemokines, and growth factors, and dysregulation of their activity can have devastating consequences. In this review, we will focus on immune dysregulation in PAH and shed light on the pro-inflammatory role of serine proteases in vascular pathology observed in the context of this disease.
Keywords
Pulmonary arterial hypertension, serine proteases, pulmonary arterial remodeling, inflammation, mast cells, neutrophils
PULMONARY ARTERIAL HYPERTENSION
Pulmonary arterial hypertension (PAH) is a severe clinical condition characterized by persistent elevation of pulmonary arterial pressure (> 20 mmHg)[1]. Even with the best standard of care, the overall prognosis for PAH patients remains poor, with a 3-year mortality rate of 21%. The picture looks even worse for patients from the high-risk PAH group with a 3-year mortality rate of 28%-55%[2]. PH can develop as a primary disease with an unknown cause (idiopathic, IPAH), as a result of the loss-of-function mutation in the gene encoding the bone morphogenetic protein receptor type II (BMPR-2, heritable PAH), or in association with other diseases[3]. However, irrespective of the underlying cause, all pulmonary hypertension forms are accompanied by progressive vascular remodeling[4], evident in small and medium size distal pulmonary arteries (PAs). Narrowing of the vessel lumen, together with reduced vasodilatory capacity, results in an increased pulmonary vascular resistance (PVR), progressively leading to right ventricle (RV) hypertrophy, heart failure, and ultimately premature death[5]. Pathogenesis of PAH is very complex and multifactorial and consensus on what triggers the disease development is missing. Affected vessels show pulmonary arterial endothelial cell (PAEC) dysfunction, expansion of media caused by abnormal proliferation of pulmonary arterial smooth muscle cells (PASMC), and changes in the extracellular matrix (ECM) architecture with collagen deposition[6] and elastic lamina breakdown[7]. Vessel remodeling is commonly accompanied by perivascular inflammation and cumulative evidence suggests that active recruitment of immune cells and inflammatory mediators, such as serine proteases, can drive pathogenic processes in PAH[8-10]. In this review, we will focus on the role of aberrant inflammatory response and serine proteases-mediated vascular injury in the initiation and propagation of PH-associated vasculopathy. We will also briefly discuss the utility of serine protease targeting as a novel immunomodulatory, anti-remodeling treatment strategy in PH.
Immune dysregulation in PH
There is growing evidence that maladaptive immune response plays an important role in PAH pathogenesis. The presence of several types of autoantibodies against vascular wall components has been identified in PAH[11,12]. Inflammatory mediators, involved in the leukocyte recruitment and activation, are elevated in the circulation and lungs of patients, and their increased levels correlate with worse clinical outcomes (e.g., interleukins IL-1β, IL-2, IL-4, IL-6, IL-8, MCP1, CCL5, CX3CL1, and TNFα)[13-16]. Furthermore, an increased prevalence of PH is observed in individuals suffering from diseases associated with maladaptive immune responses, e.g., scleroderma, systemic lupus erythematosus, sarcoidosis, and chronic obstructive pulmonary disease (COPD)[17-20]. In experimental PAH, inflammation proceeds the development of vascular changes, suggesting its causal role in vascular remodeling[21,22]. Interestingly, single-cell interaction mapping identified the remarkable breakdown of intracellular communication in diseased vessels. While in healthy PAs, harmonious crosstalk between the immune and structural cellular compartments can be observed, in PAH, there is a strong upregulation of ligand-receptor pairs between PASMC and granulocytes[23]. This indicates that in PAH, vascular cells enforce communication both within the vessel and with the granulocyte compartment.
Endothelial dysfunction is believed to be one of the triggers initiating a detrimental process that ultimately leads to vascular remodeling and evidence of an activated pulmonary endothelium is commonly found in PAH patients[24]. Increased expression of leukocyte adhesion molecules and inflammatory mediators by endothelial cells provides a perfect gateway for the tissue accumulation of inflammatory leukocytes[25]. Immune cell aggregates appear to be associated with active arterial remodeling, and perivascular inflammation score correlates with PA hyperplasia, pulmonary hemodynamics, and clinical outcome[9]. The role of specific immune cell types has been investigated in the context of PAH pathogenesis. However, only recently has it been shown in the systematic analysis of human samples that in comparison to healthy donors, IPAH patients have markedly changed global immune landscape both in the lung parenchyma and the PAs[23,26]. A multitude of different cells implicated in the disease process in PAH underpins the complexity of the innate and adaptive immune cell crosstalk in disease development. Already in the late '60s, the association of mast cells (MCs) with remodeled vessels has been shown[27]. Notably, the depletion of MCs in experimental PAH, as well as inhibition of their activity, attenuates pulmonary vascular remodeling[28-31]. Regulatory T cells (Tregs), natural killer (NK) cells, and NKT cells appear to play a beneficial role in the maintenance of vascular homeostasis and their deficiency and altered function have been linked to PA remodeling and fibrosis[32-35]. Experimental and clinical PAH is also accompanied by increased numbers and activation of dendritic cells (DCs) and macrophages in remodeled vessels[10,36,37]. The development of inflammatory macrophages depends on the influx of monocytes from the circulation and analysis of lung tissue from hypoxic mice and patients with PAH shows increased levels of factors that promote monocyte migration (e.g., CCL1, CCL2, CX3CL1)[38,39]. Moreover, the lungs of IPAH patients show evidence of lymphoid neogenesis. Adjacent to remodeled vessels, organized tertiary lymphoid tissues (TLT), comprised of B and T cell zones, can be found, raising an intriguing possibility of local adaptive immune response in these patients[10]. Growing attention is given to the role of neutrophils in PAH pathogenesis. Increased neutrophil to lymphocyte ratio (NLR) has been identified in the blood of the patients and NLR correlates with prognostic PAH biomarkers. Higher NLR is associated with increased levels of N-terminal pro-brain natriuretic peptide (NT-proBNP), rise in right atrial pressure (RAP), and shorter 6-minute walking distance (6MWD)[40,41]. Furthermore, elevated NLR is linked to increased morbidity, mortality, and unfavorable transplantation-free survival, independent of hemodynamic parameters and C-reactive protein[41]. Activated neutrophils can extrude their intracellular content of chromatin fibers and granule-associated proteases, forming net-like structures called neutrophil extracellular traps (NETs). Under physiological circumstances, this process (NETosis) plays a fundamental role in pathogen clearance[42]. However, excessive NETosis has been linked to vascular damage and inflammation[43]. Elevated levels of NETosis markers, i.e., DNA-myeloperoxidase complexes, neutrophil elastase, and citrullinated histone H3, can be found both in the circulation and occlusive vascular lesions in the lungs of PAH patients[44].
Cumulatively, a large body of evidence supports the notion that vessel remodeling in PAH is accompanied by an accumulation of several different types of leukocytes which mediate a broad spectrum of pro-inflammatory actions in affected vasculature and surrounding lung tissue.
IMMUNE CELL-DERIVED SERINE PROTEASES ARE IMPORTANT REGULATORS OF INFLAMMATION AND IMMUNITY
Immune cells are a major source of proteolytic activity in the lung. Serine proteases, abundantly expressed by different types of immune cells, are involved in the processes related to immunity and inflammation in various ways (reviewed by Korkmaz, et al.[45]). They can directly degrade ECM components (e.g., collagen, elastin, and fibronectin), interact with protease-activated receptors (PARs), and regulate the availability and activity of cytokines, chemokines, and growth factors[46]. Three main serine proteases subgroups, classified by their specific interaction with a substrate, include: trypsin-like serine proteases (e.g., tryptases and granzymes), chymotrypsin-like serine proteases (e.g., chymases), and elastases (e.g., neutrophil elastase and proteinase 3). Given the potentially destructive nature of serine proteases, it is not surprising that their activity is tightly regulated through various mechanisms. Genes encoding neutrophil granule-associated serine proteases are highly expressed only during early myelopoiesis[47]. Furthermore, many serine proteases are produced as inactive pro-forms (zymogens) and require additional post-translational modification steps, such as cleavage of the N- and C-terminal domains, to become fully active. The maturation of NSPs is mediated by other enzymes, e.g., cathepsin C (CtsC), as they do not possess autocatalytic properties[48]. Immune cells retain and store serine proteases in intracellular granules bound to proteoglycans. This modulates their activity, limits access to cellular targets, and prevents extracellular leakage. Transcriptional timing determines which proteases are packaged into specific classes of granules[47]. Additionally, serine protease activity is regulated by specialized inhibitors, with serpins representing the largest and most diverse family, consisting of over 1,000 identified members across species. Serpins mimic potential substrates and form irreversible, stable complexes with proteases through a suicide mechanism, leading to loss of catalytic function. Other endogenous inhibitors, such as secretory leukocyte protease inhibitor (SLPI), elafin, and α-macroglobulins, provide an additional layer of regulation[45]. The multilevel regulation of serine protease activity ensures a balance between proteases and their inhibitory mechanisms, which is necessary for the maintenance of homeostatic equilibrium and tissue integrity. In the next part, we will discuss how inadequate control of serine proteases can be a central component of the pathogenesis of vascular remodeling in PAH.
MAST CELL SERINE PROTEASES IN PAH
Neutrophil NSPs are not the only serine proteases implicated in PAH. There is also a body of evidence that links mast cell (MCs) proteolytic activity to the pathogenic process in this disease. Indeed, accumulation of MCs is commonly observed in and around the remodeled vessel[31,92] and their depletion[28], as well as inhibition of MC degranulation, ameliorates experimental PH[28,93]. Mast cells are a tissue-resident, long-lived granulocyte population that resides at the host-external environment interface, often in proximity to blood vessels. They play an important homeostatic role, coordinating inflammatory and repair processes in the tissue. Despite being very rare, the biological response evoked by MCs products can be extremely potent. Inappropriate MC activity contributes to acute allergic responses, chronic inflammation, and tissue remodeling and has been linked not only to pathology in PAH but also to other chronic pulmonary diseases, e.g., asthma, pulmonary fibrosis, and COPD[94]. Proteases can make up over 25% of total protein content in MCs, with mRNA levels that exceed commonly used housekeeping genes[95-97]. Two of the most abundant MC serine proteases, tryptase and chymase[98], have been reported to be increased in PAH[92,93]. Higher levels of circulating MC proteases, and expansion of tryptase and chymase-positive cells in the lung, correlate with the severity of the pulmonary vascular disease[31,92,99].
Tryptase
Tryptase can activate protease-activated receptor 2 (PAR2), which increased expression has been found in PASMCs in vascular lesions. The tryptase-PAR2 axis has been shown to regulate several cellular effects central to PAH pathogenesis. Primary PASMCs exposed to tryptase increase their proliferation, migration, and production of fibronectin and MMP-2[31].
Tryptase can also alter the behavior of endothelial cells and stimulate them to release neutrophil-chemotactic IL-8[100,101], and degrade collagen IV, which is a major constituent of the pulmonary vessels' basement membrane, important for endothelial barrier function[54,102]. Furthermore, deposition of collagen is commonly observed within remodeled vessels[6,35]. Tryptase activity could facilitate this process via its ability to stimulate fibroblast proliferation, migration, and collagen I production[103-105]. In conclusion, tryptase exerts variable effects on different cell types, which cumulatively can contribute to vessel remodeling.
Chymase
Chymase, similar to CatG, has chymotrypsin-like activity. Chymase can directly (independently of angiotensin-converting enzymes) mediate local production of angiotensin II and activate endothelin, thus affecting vasomotor tone regulation[106,107]. Indeed, transgenic mice that express human chymase develop systemic hypertension, cardiac hypertrophy, and leucocytosis, confirming the important role of this enzyme in the regulation of blood pressure and inflammation[108]. The potentially destructive nature of the increased level of chymase is further proven by the observation that a high gene copy number in homozygotes is embryonically lethal[108]. Chymase can modulate inflammatory response by modification of cytokines and chemokines, e.g., IL-1β, IL-18, and CXCL7[109]. Moreover, it participates in ECM degradation and remodeling, either via direct cleavage of proteins such as fibronectin[110] or by activation of other enzymes, e.g., MMP-2 and MMP-9[111,112]. Investigation of the role of chymase in pulmonary hypertension pathogenesis confirmed the utility of chymase targeting as a promising therapeutic approach. In comparison to controls, inhibitor-treated animals showed improved hemodynamics and significantly reduced vascular remodeling. Decreased chymase activity resulted in lower levels of TGF-β1 and MMP-2, as well as diminished endothelin 1-mediated pulmonary vasoconstriction[113], providing hints into the mechanism behind the protective effect mediated by chymase inhibition.
OTHER SERINE PROTEASES
Serine proteases are a diverse family of proteolytic enzymes expressed not only in neutrophils and mast cells but also in other granulocytes, such as eosinophils and basophils. The role of eosinophils in PH is complex and context-dependent, as they have been implicated in both promoting[114] and preventing[115] the development of this condition. Animal models of pulmonary arterial hypertrophy have shown that depletion of eosinophils using anti-IL-5Rα antibodies can ameliorate vascular remodeling[116], and patients with eosinophilic COPD are at a 7-fold increased risk of PH compared to non-eosinophilic COPD[117]. These findings suggest a potential role for eosinophil-derived mediators in the pathogenesis of pulmonary hypertension. However, it is not yet clear whether eosinophil-derived serine proteases specifically contribute to this effect.
Basophil accumulation has also been observed in the lungs and pulmonary arteries of IPAH patients[26]. Basophils share many characteristics with mast cells, and it is possible that mast cell-targeted therapies exert their effects, at least in part, via modulation of basophil function. However, the specific role of basophils in pulmonary hypertension remains unclear. Most of the evidence to date supports the involvement of neutrophil-derived NSPs and MC-derived tryptase and chymase in the pathogenesis of PAH. However, it is important to consider that other serine proteases may also participate in the pathological processes underlying this disease, and further research is needed to fully elucidate their roles.
A summary of preclinical studies addressing anti-serine protease strategies in PH treatment can be found in Table 1.
Table 1
Studies investigating therapeutic modulation of serine proteases in preclinical models of PH
Target
Inhibition strategy
Preclinical PH model
Main outcomes
NE
Recombinant elafin
S100A4/Mts1 overexpression (develop PA neointimal lesion)
-mice
Attenuation of the development of neointimal lesions[50]
Recombinant elafin
SuHx-rats
Improved hemodynamics and RV hypertrophy, regression of PA occlusive changes[68]
Elafin overexpression
Chronic hox- mice
Decreased severity of pulmonary vascular disease[69]
Inhibitors M249314
and ZD0892
MCT-rats
Reversal of established PAH with normalization of PA pressure and structure[70]
CtsG/PR3
Elafin has also been shown to modulate the activity of PR3[75,76]
The specific role of CtsG/PR3 in PAH has not been addressed
Chymase
Tryptase
Ketotife (MC stabilizer)
MC Knock Out
MCT-rats
Attenuation of PH and vascular remodeling[28]
Cromolyn (MC stabilizer)
c-kit inhibitor PLX
MCT-rats
In preventive approach attenuated RVSP and decreased muscularization[29]
FSLLRY-amide
(PAR-2 antagonist blocks tryptase-PAR2 axis)
Chronic hox-mice
PAR-2 antagonist attenuated the development of PH and vascular remodeling[31]
Cromolyn (MC stabilizer)
TY-51469 (inhibitor)
MCT + aortocaval shunt
-rats
Lower chymase activity was associated with less advanced pulmonary vascular remodeling and improved RV hemodynamics[93]
BCEAB (inhibitor)
Bleomycin-induced PH due to lung fibrosis
-hamsters
Reduced pulmonary vascular remodeling and lung fibrosis, lower expression of TGFβ1 and MMP2 in PAs[113]
Chymostatin (inhibitor)
Cigarette smoke-induced COPD-PH-hamster
Reduction of chymase activity and Ang II concentration in the lung. Attenuated RVSP elevation and remodeling of pulmonary arterioles[118]
CONCLUDING
There is an urgent need for the identification and development of novel therapeutic strategies for PAH, as current treatments target primarily vasoconstriction rather than vasculopathy which underpins the pathology of this disease. Vasodilators ameliorate the symptoms, improve functional capacity and reduce hospitalizations, but do not protect patients from the development of progressive, occlusive vascular lesions and clinical deterioration[44,119]. Growing evidence supports the notion that dysregulated immunity and increased immune-cell-derived proteolytic activity play a central pathogenic role in the development and progression of vessel remodeling and PAH (summarized in Figure 1). Experimental models showed that inhibition of selected serine proteases, such as NE or chymase, can prevent, or in some instances even revert, vascular remodeling and disease progression[70,113]. Therefore, a strategy that modulates the effects of the aberrant activity of immune cell-derived proteases to reduce inflammation and preserve the structural integrity of the vessel wall holds great therapeutic promise. The development of anti-serine protease therapy is a rapidly advancing field of research. Despite significant efforts, designing an effective strategy has proven to be challenging. The multifaceted regulation of serine protease activity provides many targeting opportunities, but it also makes the design of an effective drug difficult. Furthermore, therapeutic targeting is complicated by the incredible complexity of the serine protease family and the fact that these enzymes are central regulators of many biological processes that are necessary for tissue homeostasis. This complexity requires a delicate balance between targeting serine proteases to achieve therapeutic benefits while avoiding disruption to normal tissue function. It is important to note that broad-spectrum inhibition of serine proteases can be detrimental, as demonstrated by Aprotinin, the administration of which significantly increases the risk of end-organ damage and death[120]. For safety reasons, a more refined, targeted approach needs to be favored. Elafin (NE and PR3 inhibitor) is currently being investigated in a phase 1 clinical trial for the treatment of PAH (ClinicalTrials.gov Identifier: NCT03522935). Cathepsin C (CtsC) makes another interesting target for modulating serine-proteases-mediated tissue damage and inflammation, as it is an upstream activator of NSPs, tryptase, chymase, and granzymes. Brensocatib, a CtsC inhibitor, has recently been confirmed as safe and effective in phase 2 clinical trials involving bronchiectasis patients[121]. Given the strong implication of neutrophil and MC serine proteases in the development of PAH, targeting CtsC to reduce proteolytic activity in the tissue - by preventing the conversion of zymogens to active enzymes[45] - emerges as a potential therapy to treat PAH. Genetic inactivation of CtsC in humans leads to Papillon-Lefèvre syndrome (PLS, OMIM: 245000), an autosomal recessive disorder in which NSP activity is minimal or absent[122]. Because the clinical consequences of this disorder are mild, small molecule inhibitors targeting CtsC activity are considered safe and represent an attractive therapeutic strategy to modulate NSP-mediated tissue damage and inflammation. However, given that neutrophil NSPs and MC serine proteases have a broad range of targets and affect various aspects of inflammation and tissue damage, inhibiting their activity could have immunomodulatory and anti-remodeling effects not only in PAH but also in many other diseases.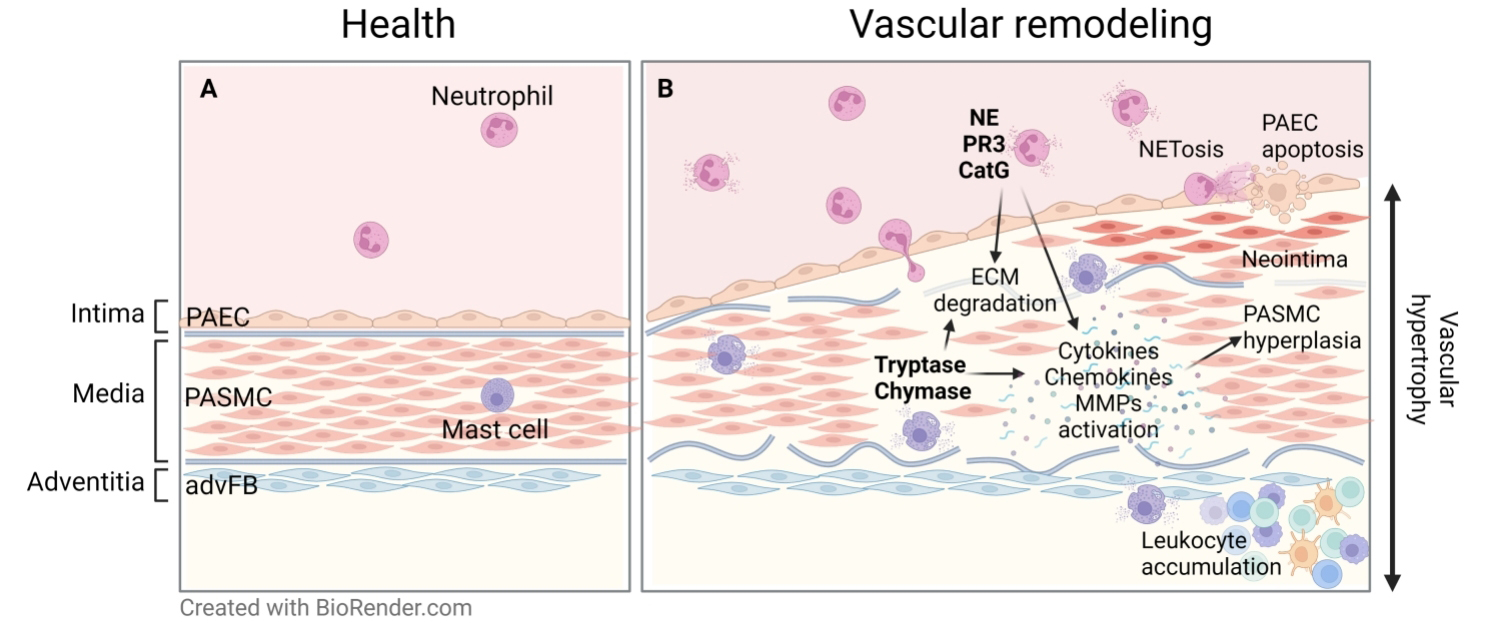 Figure 1. Involvement of proteases in pulmonary arterial remodeling in PH. (A) Schematic representation of a healthy arterial wall. (B) Arterial remodeling is accompanied by PASMC hyperplasia and ECM degradation and remodeling leading to the loss of vessel architecture. Immune cell-derived serine proteases can hydrolyze ECM proteins and modulate the bioavailability of cytokines, chemokines, and growth factors, thus regulating processes central to the development of vascular pathology. PAEC: Pulmonary arterial endothelial cells, PASMC: pulmonary arterial smooth muscle cells, advFB: adventitial fibroblasts, ECM: extracellular matrix, NE: neutrophil elastase, PR3: proteinase 3, CatG: cathepsin G. Graphical abstract has been created with BioRender.com.
DECLARATIONS
Authors' contributions
Wrote and edited the manuscript: Borek I
Provided a critical review of the manuscript: Kwapiszewska G
Availability of data and materials
Not applicable.
Financial support and sponsorship
None.
Conflicts of interest
Both authors declared that there are no conflicts of interest.
Ethical approval and consent to participate
Not applicable.
Consent for publication
Not applicable.
Copyright
© The Authors 2023.
Cite This Article
OAE Style
Borek I, Kwapiszewska G. Immune cell-derived serine protease as pathogenic drivers of vascular remodeling in pulmonary arterial hypertension. Rare Dis Orphan Drugs J 2023;2:5. http://dx.doi.org/10.20517/rdodj.2022.20
AMA Style
Borek I, Kwapiszewska G. Immune cell-derived serine protease as pathogenic drivers of vascular remodeling in pulmonary arterial hypertension. Rare Disease and Orphan Drugs Journal. 2023; 2(1):5. http://dx.doi.org/10.20517/rdodj.2022.20
Chicago/Turabian Style
Borek, Izabela, Grazyna Kwapiszewska. 2023. "Immune cell-derived serine protease as pathogenic drivers of vascular remodeling in pulmonary arterial hypertension" Rare Disease and Orphan Drugs Journal. 2, no.1: 5. http://dx.doi.org/10.20517/rdodj.2022.20
ACS Style
Borek, I.; Kwapiszewska G. Immune cell-derived serine protease as pathogenic drivers of vascular remodeling in pulmonary arterial hypertension. Rare. Dis. Orphan. Drugs. J. 2023, 2, 5. http://dx.doi.org/10.20517/rdodj.2022.20